"THIS IS YOUR CAPTAIN SPEAKING"
Become a better pilot for your projects, for your people and even in life outside work by using valuable principles from aviation. You might be flying through turbulent times today – uncertainty, a lot of change, higher expectations from you – but all these can be handled well and the Dark Cockpit book will show you how.
Dark Cockpit is an aviation concept. It is the term we use for the situation when, except for the ambient and instrument lighting, no other light is on – no CAUTION lights (amber), no WARNING lights (red) and so on.
Dark Cockpit means everything is fine and working as planned.
In this book, a very experienced airline captain and a senior business consultant will show you how to:
• Bring clarity, boost morale and achieve results through your communication;
• Quickly win the trust of the people you work with. And keep it;
• Assess your own readiness as a leader;
• Always have a plan and be prepared for whatever can go wrong;
• Meet the 4 requirements of a true professional;
• Develop responsibility, competence and leadership in those around you;
• Be resilient, handle any turbulence and help others do the same.
Use the stories, principles and advice from this book to "dark cockpit" your way through life, be it at work or home.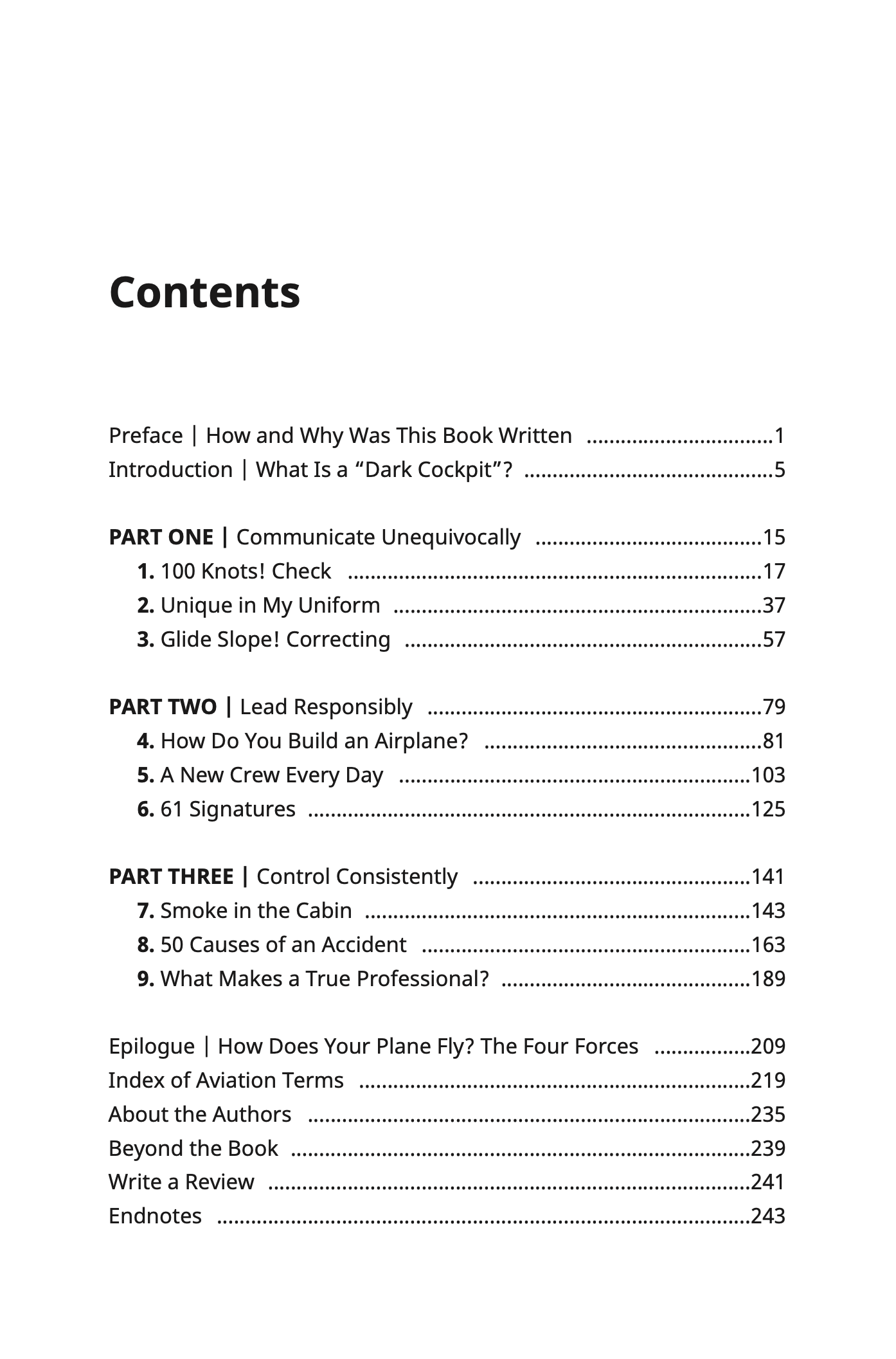 FORMAT AND CONTENTS
Each chapter includes: 
Powerful and relevant stories from the 25-year aviation experience of Cpt.Dobrovolschi. They  are told in a way that engages the reader and reveals the main messages of the chapter; 
Aviation concepts and behind-the-scenes principles that enable the daily operation of over  100,000 commercial flights; 
Clear and powerful messages that readers can apply in their own life at work or outside work; 
Examples and situations that readers can easily relate to and that give even more meaning to  the principles and recommendations; 
Calls to action.